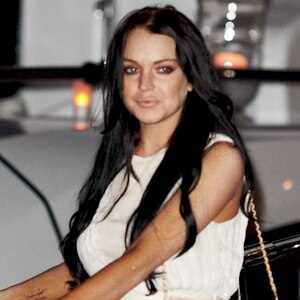 Tomorrow Lindsay Lohan is due in a Los Angeles courtroom, where a judge could toss her into jail. But she didn't let a little thing like that—or any allegiance to Mean Girls costar Amanda Seyfried—spoil her fun at the Cannes Film Festival last night.
Here's what went down.
Lohan and her entourage turned up at the Belvedere party and immediately parked themselves next to the stage, where Grace Jones was due to perform. Among those in Lohan's group was Seyfried's boyfriend, Dominic Cooper.
"They were having fun, partying," an eyewitness tells E! News. "Lindsay was dancing."
Cooper is in town to hype his latest film Tamara Drewe; Seyfried, meanwhile, is back in the States promoting her new chick flick Letters to Juliet.
At one point, Cooper was dancing on a couch while Lohan stood on the floor beneath him.
"They were being coy with each other," the clubgoer says. "Not really touchy, but flirty. After Grace's performance they sat down at the table next to each other and were hanging out."
But the good vibes didn't last—at least for all the attendees.
British singer-model Sarah Harding, a member of the group Girls Aloud, had been at the club before Lohan & Co. arrived.
"For no apparent reason, Lindsay's bodyguard asked Sarah to leave the table," the party insider says. "Sarah got upset, but Lindsay's bodyguard made her leave the table. Sarah was causing a stir, yelling, asking why, but it really wasn't clear why it happened."
Hmmm…booting fellow celebs. Flirting with a costar's guy. We have an idea why. Maybe she's just one Mean Girl, after all.